correctly understanding type plates
30.10.2017 | Lighting knowlege
The characteristics of a luminaire are documented with special designations. A significant part of luminaire labelling is the type plate. This contains data enabling a luminaire to be technically described and classified and is also used for purposes of unique identification. For the technically safe operation of a luminaire it is therefore decisive that this information can be correctly read and understood.
Importance of the type plate and practical use
A form of luminaire designation such as the type plate offers experts a description of the most important technical parameters, relevant information about correct use and correct luminaire installation. With the information printed on the type plate experienced users can also check whether the luminaire is suitable for the intended environment and whether it complies with the required technical characteristics. This is of course only possible if the responsible electrical contractor is capable of correctly reading the type plate and interpreting its statements.
Creation and legal significance
The obligation for luminaire designation is based on legislative and normative stipulations. Product safety legislation specifies the use of type plates since 2011 and documents this in the DIN EN 60598 product standard. Furthermore, requirements for labelling luminaires are also specified by EU directives and regulations such as the eco-design directive (ERP) 2009/125/EC with regulations 244, 245 and 1194/2009, and the directive for old electrical and electronic products 2012/19/EC (the WEEE directive).
It is stipulated here among other obligations that the labels are clearly legible, are permanently attached to the luminaire and that they must be clearly recognisable during installation. The most important specifications must also be visible during maintenance and repair. The manufacturer assumes product liability for operation within the framework of these specifications. For operation outside of the documented conditions all approval designations lose their validity and product liability expires.
overview
DESIGNATIONS ON A LUMINAIRE TYPE PLATE
Information specified in standards:
- Mark of origin (brand, manufacturer designation or dealer name)
- Type specification
- Electrical information (incl. rated voltage and rated power)
- Maximum ambient temperature
- Protection rating and safety class
- If applicable: ball-impact resistance
- If applicable: D symbol for increased fire protection via limited surface temperatures

Manufacturer-specific information:
- Parts identification no., TOC no., country of manufacture, production., running no., production location

Approval marks of third parties
- (optional and only permitted if valid test certificates exist)

Legally required symbols:
- e.g. for declaration of conformity to appropriate EU directives
- e.g. for waste disposal: not in domestic waste but in collection points for obsolete devices
safety-related specifications
from rated voltage to ambient temperature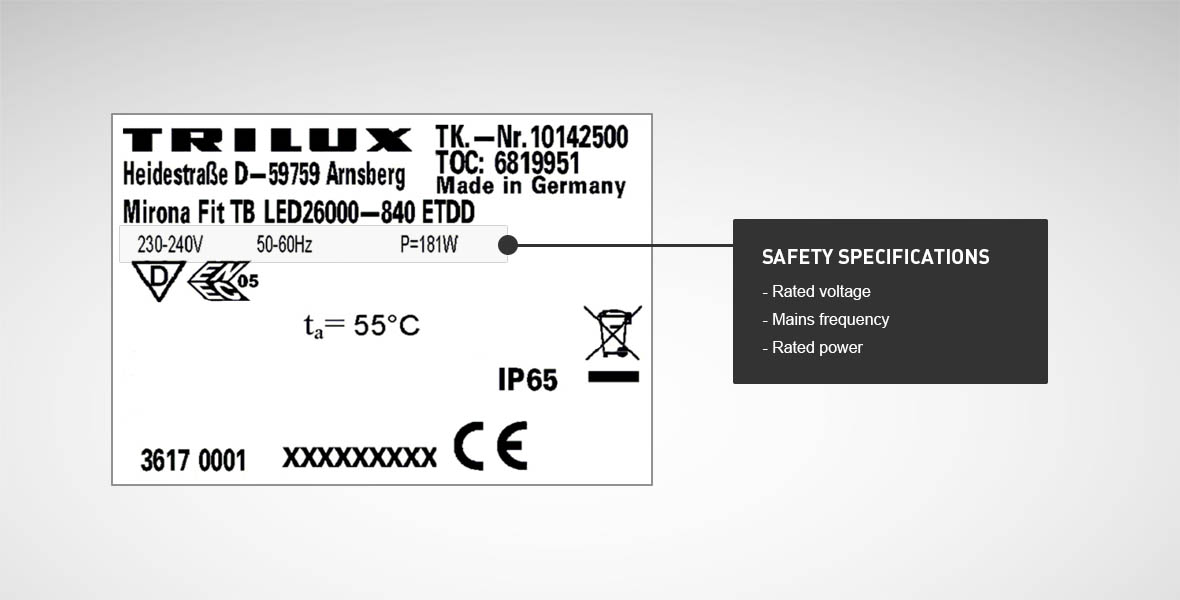 rated voltage
This information relates to the electrical operation of the luminaire. It specifies the rated voltage, mains frequency and rated power. The rated voltage in the example observed is permitted to be between 230 V and 240 V, which is not a problem in Europe with its standard mains voltage of 230 V. The mains frequency is permitted to be between 50 and 60 Hz and the rated input power is 181 W. This relates to 100% luminous flux and is allowed to deviate downwards by a maximum of 10%.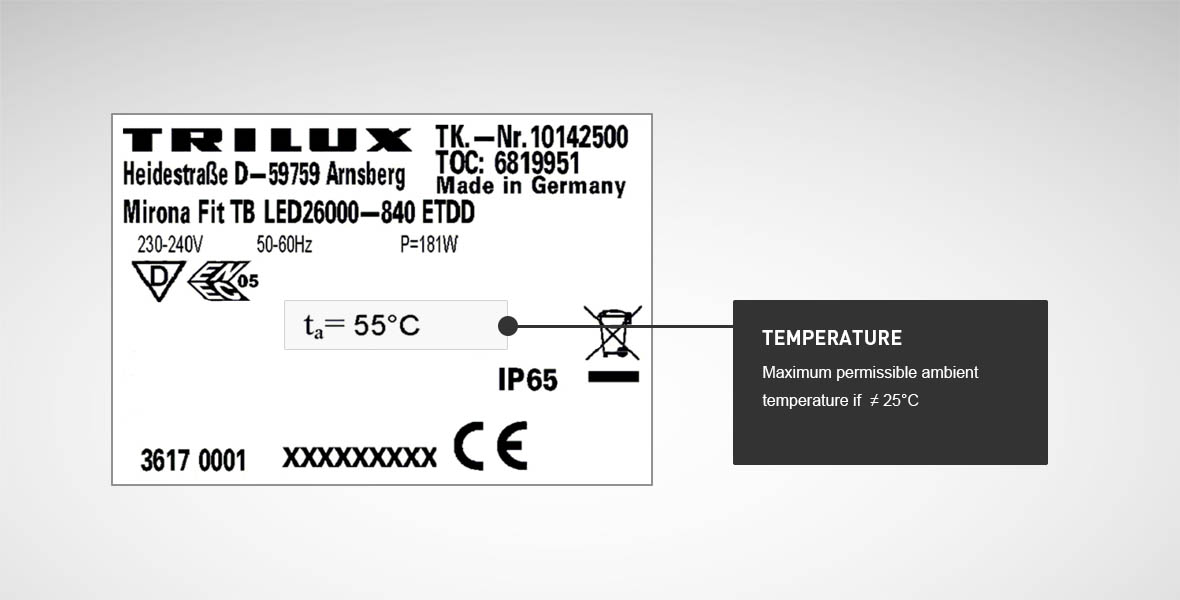 maximum permissible ambient temperature
The specification for maximum permissible ambient temperature is especially important because it significantly influences the safe operation of a luminaire. If a luminaire is used in an ambient temperature that is too high this may cause functional disruptions and an increased danger of fire.
ta (a = ambient) designates the maximum permissible ambient temperature within which the luminaire can be faultlessly operated with regard to safety. This temperature must not be exceeded in the long run if the functionality and durability of the luminaire or its internal electric components are to be sustainably ensured. This is imperative especially with today's modern LED luminaires.
The maximum ambient temperature must always be explicitly specified if it deviates from 25 °C. If the specification is missing the ambient temperature should not exceed 25 °C.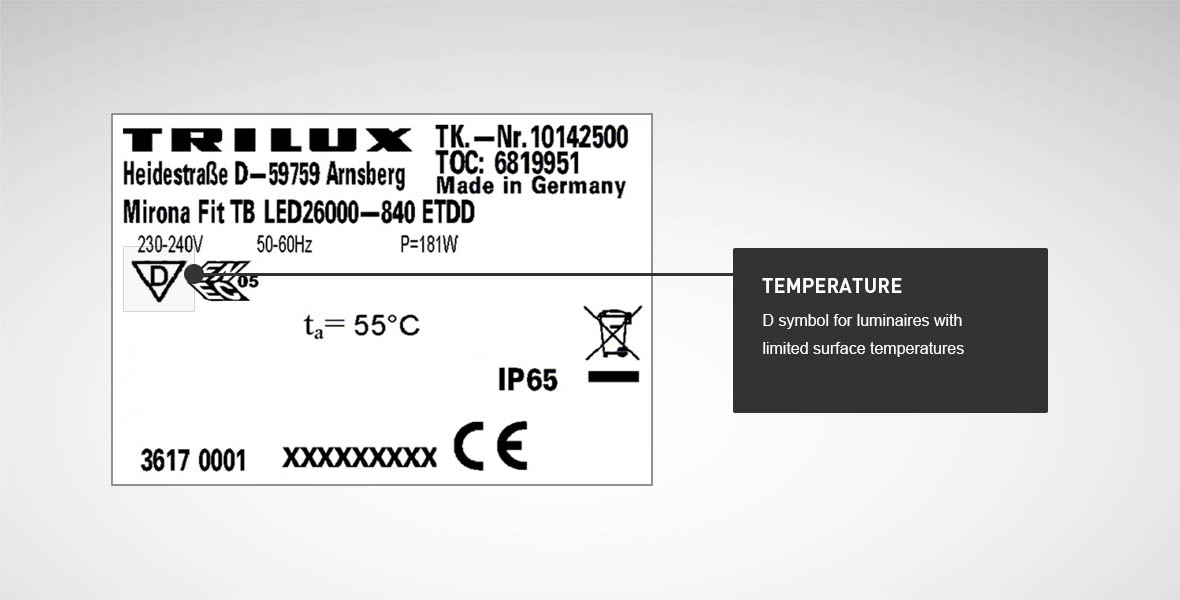 the d symbol
The D symbol is important for fire protection and relates to luminaires intended to be used in fire-hazard environments. The surface of such luminaires must not have a temperature of more than 90 °C at any location in correct operation to avoid any ignition of e.g. dust particles or fibres.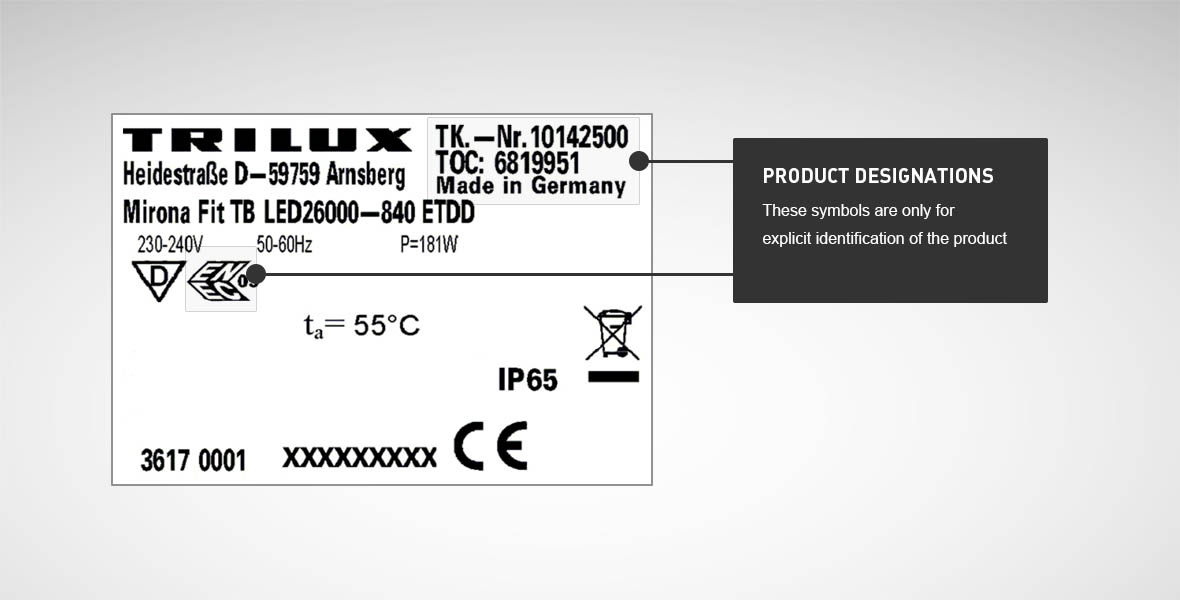 product designations and certification marks
These symbols serve among other factors for the explicit identification of the product, and contain the article number and order number of the luminaire. Furthermore, certification marks issued by neutral testing authorities are also on the type plate, confirming correctness of the technical specifications. Examples of these are ENEC or ENEC+ symbols.
summary
The type plate documents the technical product features, the most important ambient parameters for operation and also, via certification marks, the state of technology. Being able to correctly read and understand this information is decisive for the correct use of a luminaire. Users can also thus avoid complaints and safety risks.
All further information about the topic of type plates can be found in the free webinar "Correct reading of type plates".
contact
Do you have any questions or notes regarding the subject?